At Ace Moving, we're more than just furniture movers in Fort Mohave, Mojave City, Mohave County, Bullhead City, and Mesquite Creek, AZ. Our team offers professional care for your belongings that ensures your possessions arrive safely at your new destination. We're your complete moving help, providing a smooth, stress-free transfer from location to location. Contact us for superior moving services that will leave you completely satisfied.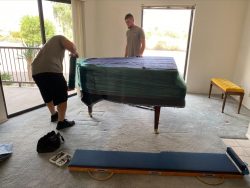 Residential moving:
As your full-service furniture movers, our team is prepared to pack, load, deliver and unload your entire household. Don't lift a finger. Contact us to schedule your next move, then sit back and relax as we handle your home as if it were our own.
Commercial moving:
Do you need to relocate your office? Is it time to expand your store? We're equipped to handle your commercial move. We'll carefully load and unload your supplies, inventory, furniture and equipment and help you arrive at your new commercial location ready to do business.
Local and long-distance moves:
Are you moving next door or to the next state? We offer moving services for local and long-distance moves. We create a seamless process to load, deliver and unload your belongings—wherever you're headed.
Packing:
Few people enjoy this process. For many, just the thought of packing brings on a headache. That's why we offer professional packing services. We'll carefully pack your belongings to prepare them for transport, allowing you to focus on other tasks.
Loading and unloading:
Whether you need assistance loading at one location or unloading at another, the team at Ace Moving is ready to assist you. If you need help with both, we are happy to provide that, too. We handle your belongings as if they were our own.
Piano moving:
Not every team of moving help is equipped to handle the big jobs. We provide expert piano movers in Fort Mohave, AZ to ensure your piano arrives safely at the new location.
Pickups and deliveries:
Are you making a large purchase or sale? Do you have the proper vehicle and manpower to transport it? If not, simply give us a call. We offer fast and efficient pickup and delivery service.
Make Your Move

When you need professional furniture and piano movers you can count on, contact Ace Movers. We take the utmost care of your furnishings and belongings, for a smooth move and superior customer satisfaction. Reach our moving services team at 928-758-0304 to schedule your moving help today.